Lemon Balm Cream Uses and Benefits
  Cream is semi-solid emulsion generally consist of approximately 50 percent oil and 50 percent water. Most people prefer cream because unlike ointment, it is not too greasy or sticky. When we apply lemon balm cream, our skin feels more cooling and soothing. It is much suitable for medications on larger areas of the skin and the medications can quickly absorbed by skin.
Lemon balm cream can keep our skin soft and healthy. Thicker cream is good for moisturising dry skin. Besides, lemon balm cream also works well in treating animal or insect bites, cuts, scrapes and dressing wounds. It is highly recommended by herbalists as a remedy for skin conditions including cold sores, chicken pox, genital herpes, shingles, psoriasis, eczema and etc.
All Natural Lemon Balm Cream Homemade Recipe
Ingredients
6 ounces organic grape seed oil
2 ounce of organic coconut oil or cocoa butter
1 ounces of organic Aloe Vera Gel
7 ounces of lemon balm hydrosol
1/4 teaspoon of vitamin E oil
Note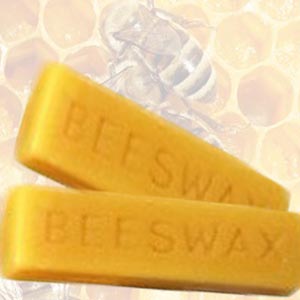 Cream contains both water and oil contents. As we all know, ordinary oil and water do not mix together. Beeswax acts as emulsifier agent; it helps to combine oil and water into a smooth cream.
Beeswax has been classified as a weak emulsifier agent. Some claim that it only a thickener. But, as long as, the water ratio of you recipe not far more than 50%, it will still works well. By using beeswax, you homemade creams tend to have shorter shelf life (up to 3 months if proper storage). I include beeswax in my homemade recipe because unlike others more stable emulsifier agents, it is 100% natural. Beeswax is great because it has soothing, anti-inflammatory, softening and antioxidant properties.
Lemon balm hydrosol is produced via steam or water distillation process. It has similar properties to lemon balm essential oil but it is less potent and less concentrated.
Optionally, you can replace lemon balm hydrosol with 1- 2 drop of lemon balm essential oil mix with 6 ounces of distilled water. You can buy lemon balm hydrosol or essential oil at any organic shop or herbal online store.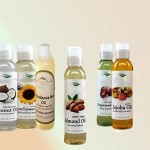 Grape seed oil has an antioxidant properties and is able to cleanse the skin. Coconut oil is chosen because it has a long shelf life and safe for moisturising the skin and hair.
Aloe Vera gel can hydrate your skin and promotes skin renewal. It also possesses anti-bacterial properties and effective in wound healing.
Vitamin E oil is a great anti-oxidant. It can extend the shelf life of your homemade cream. Vitamin E also capable for improving the appearance of skin, wrinkles and stretch marks.
Instructions
1. Oil Phase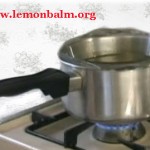 This process involves heating the oils in order to melt the beeswax into it. To avoid overheating the oil, you are recommended to use double boiler. It is quite easy to set up your double boiler system. Simply place a glass bowl on top of pan with boiling water. Pour grape seed oil and coconut oil into glass bowl (top portion of double boiler) and heat it over low heat.  Add in beeswax and heat it just enough to melt. When the beeswax completely melts into oil, pour them into blender. Set it aside and let them cool down. (Do not let it become too hard).
2. Water Phase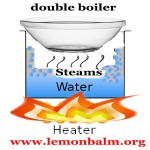 At the same time, combine the lemon balm hydrosol, aloe vera gel and vitamin E oil into another glass bowl (top portion of another double boiler), heat them gently and stir them well. Let the water mixture just enough to thoroughly warm. Weigh your water phase, add in warm water to compensate for the lost water during heating process.
3. Now we are reaching the challenging part – combining water and oil. You have to do it right, to avoid shorter shelf life of your cream and prevent your water and oil content from separate easily. When our oil mixture has cool down, turn on the blender to start mixing the oil mixture.
4. It's critical to pour in the water mixture slowly and gently into the whirling oil mixture.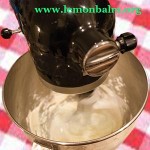 5. We will see our oil and water mixture start to emulsify and thicken.
6. Once you finish blending, turn off the blender. Pour your lemon balm cream into jars and label the name and date.
7. Store it in a cool location or in refrigerator. Their shelf life is between 3 weeks to 3 months depend on the ingredients and storage conditions.
Cautions
To avoid cross contamination and to keep for longer shelf life, clean your hand or use clean cotton swabs when you use your lemon balm cream.
For a start, only apply lemon balm cream on small skin area (preferably hand or leg). When you have confirmed no any allergic reactions, apply it on the rest of your body.
Immediately get for medical help, once you detected any allergic reactions.
Posted by