What is Body Butter?
If you have sensitive skin and being tired to read through list of unpronounceable ingredients of commercial skin care products, may be is time to make your own body butter. Body butter is highly concentrated lotion. It basically consists of three basic ingredients: carrier oils, shea butter/cocoa butter and essential oil. As for whipped body butter, it usually includes beeswax as one of the ingredients. Unlike lotions, most natural body butters do not contain water, therefore synthetic preservatives and artificial emulsifiers are not required.
Making homemade body butter is very easy and save lot of your money. But, to be frank, the first experience of using body butter, it's kind of weird and a bit greasy. But, amazingly it melts quickly onto my skin and my skin feels much softer and smoother. It is great moisturising the skin surfaces and forming a protective barrier over the skin.
Homemade All Natural Lemon Balm Body Butter Recipe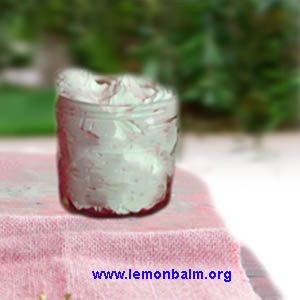 Ingredients
8 ounces of shea butter
4 ounces of coconut oil
4 ounces of Jojoba oil
10 drops of vitamin E oil
10-15 drops of lemon balm essential oil
Shea Butter
Alternatively you can replace shea butter with cocoa or mango butter. But, I prefer shea butter because it is 100% natural and it can produce much lighter texture body butter. Shea butter is actually a fat extracted from the nut of the African shea tree. It is rich of Vitamin A and possesses natural moisturizing and soothing properties. It is ideal ingredient for skin care and cosmetic products.
Jojoba Oil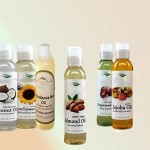 Jojoba Oil is carrier oil that has very long shelf life. It is suitable for those with oily and sensitive skin. Alternatively, you can replace jojoba oil with almond oil or olive oil.
Coconut Oil
Coconut Oil is odorless, colorless and it has a long shelf life. It is good for moisturising our skin. It is commonly use because it can helps to extend other carrier oils shelf life.
Vitamin E oil
Vitamin E oil is a natural anti-oxidant. It can prolong the shelf life of your body butter. Vitamin E also brings anti-aging and anti-wrinkles effects.
Lemon Balm Essential Oil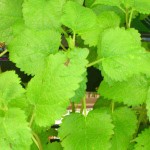 In this recipe, we are going to add in lemon balm essential oil to increase its healing capabilities. Lemon balm possesses antioxidants, astringents, antibacterial and antiviral properties. It is able to prevent skin irritation and infections. It also improves our skin complexion.
Instruction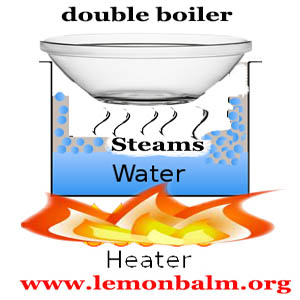 The first process involves heating the carrier oils in order to melt shea butter into it. Double boiler is recommended to avoid overheating the carrier oils and shea butter. You can set up your simple double boiler by placing glass bowl on top of pan with boiling water.
Pour jojoba oil and coconut oil into glass bowl (top portion of double boiler). Warm the carrier oils gently over a low heat.
Add in shea butter and let it slowly melt into carrier oils. Warm the mixture for around 10 to 15 minutes until the butter has completely melts into oil.
Turn off the heat and allow them to cool down a bit.
Then, add in lemon balm essential oil and vitamin E oil into the mixture. Stir gently to combine the mixture.
Set aside and let it cool down.
Spoon your lemon balm body butter into jars.
Properly label the name and date.
Store it in in refrigerator or a cool location.
Posted by