Safety of Lemon Balm for Nursing Mothers and Breastfed Babies/ Toddlers
World Health Organization (WHO) and The American Academy of Pediatrics have recommended to only feed the infant with breast milk in the first six months of life (exclusive breastfeeding). Breastfeeding will give your baby a healthy start and it may also provide longer-term health benefits for the nursing mother.
For those nursing mothers who are consuming lemon balm in their daily foods or using it as supplements or medicines, their major concern would be – is lemon balm contains any substances that may be harmful to them or to their baby?
Below is the checklist that nursing mothers may want to look into before decide whether lemon balm suit to them.
Is lemon balm galactagogue or antigalactagogue Herb?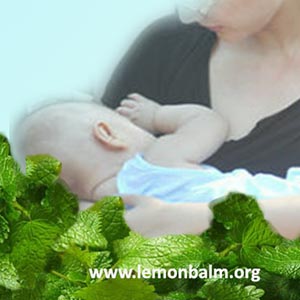 Lemon balm like most members of mint family is antigalactagogue herb. Antigalactagogue herbs are herbs that can reduce the breast milk supply if using in large amounts. (Work opposite to galactagogue herbs). Under normal circumstances, consume small amount of lemon balm or antigalactagogue herbs would not pose any problems to nursing mothers. However, if they find reduce of milk production after consume the herbs, they should consider stop ingesting the herbs. At the same time, they should not worry too much. It is quite easy to build up their milk supply again. Get board-certified lactation consultant help if necessary.
On the other hand, lemon balm is useful for nursing mothers that want to reduce oversupply of breast milk or when in the process of weaning. Consult lactation consultant to get the suitable dosage.
NOTE: other common traditional antilactagogues herbs are Sage, Chickweed, Peppermint leaves, Jasmine Flowers, Thyme, Parsley, Yarrow, Spearmint leaves, Oregano, Black Walnut, Periwinkle Herb, Green cabbage leaves, donq quai and etc.
Common lactagogues herbs are Raspberry leaf, Alfalfa, Nettle, Fennel, Goat's rue, Fenugreek, Milk Thistle, Shatavari, oatmeal and etc.
Is Lemon balm safe for breastfed babies or toddlers?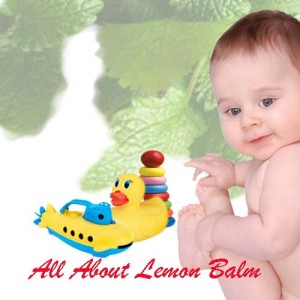 Lemon balm can be served as tea, and lemon balm tea is caffeine free. It is also listed by US Food and Drug Administration (FDA) on its GRAS (generally recognized as safe) list.
Dr. Jack Newman, a famous lactation professional, has pointed out that when the nursing mother using a medication, only around 1% of medication will excreted into breast milk. In other words, lemon balm is considered safe for breastfed babies or toddlers because its dosage in breast milk is very low. However, it could be unsafe if nursing mothers consume lemon balm excessively or if babies/ toddlers have any allergic reactions to lemon balm.
NOTE: Herbs that harmful to nursing mothers and their baby are buckthorn, kava-kava, chaparral, bladderwrack, rhubarb, ephedra, dong quai (angelica root), indian snakeroot, star anise, ginseng, and almost all anti-parasite herbs, including wormwood.)
Is Lemon balm safe for nursing mothers?
Lemon balm is not only safe but it could bring a lot of benefits while breast-feeding. Psychologist Dr. Trevor Powell stated that new parents likely to experience stress because they have less sleep, less money and less time for relaxing.
Lemon balm can help nursing mother as a natural remedy for stress related symptoms such as restore the nervous system, relax muscles, reducing tension, relieve anxiety and insomnia. When her body starts to relax, it will lead her milk to flow easily.
Lemon balm is very helpful when your babies are facing gas, bloating, colic or digestion problems. The nursing mother can consumes lemon balm, the healing properties of lemon balm can be pass to her baby through her breast milk. Lemon balm can relieve gas, bloating and digestion discomforts. It has calming effects that is capable to deal with colic symptoms.
Helpful Tips
It is advisable to consult with an experienced doctor, lactation consultant, or your child's pediatrician on the safe use of lemon balm and more accurate dosage for nursing women and their breastfed babies/ toddlers
If nursing women and their breastfed babies/ toddlers experience severe allergic reactions such as headache, vomiting, swelling on face, hand or feet, dizziness, stomachache, breathing difficulty and etc., immediately stop using it and seek for medical help as soon as possible.
If you are beginner, only allow yourself to consume lemon balm in smaller doses. When your body system have accustomed well with lemon balm, gradually increase to prescribed doses.
Do not use lemon balm on continuous basic for prolonged period. Please try to arrange them for two weeks on, one week off cycle.
Drink more water (at least 2 Liter per day) but try to avoid drinking coffee. Coffee will dehydrate your body.
Posted by