Benefits of Lemon Balm Natural Herbal Cosmetic
In recent years, natural herbal cosmetics and skin care products have flooded around the outlets or online stores. They have become the fashion and year after year more and more women are switching to organic and natural herbal cosmetics. Lemon balm cosmetics are one of the natural herbal skin care and cosmetics which have shown significant increase in demand.
What make lemon balm cosmetics stand out as one of the most popular natural herbal cosmetics?
Lemon balm has been listed by US Food and Drug Administration (FDA) in their "generally recognized as safe" list. Lemon balm cosmetics possess refreshing lemony fragrance and it is generally safe for all skin types.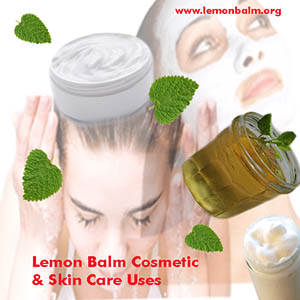 Lemon balm has found rich in rosmarinic acid. Several studies have proven rosmarinic acid antioxidants effects are ten times stronger than Vitamin E and Vitamin C. The antioxidants can protect our skin surfaces and preventing our cells damage by penetrating into our skins. These function are very useful in protecting our skin especially against sun damage and UV radiation. It also improves our skin complexion.
Besides, antioxidants help our tissues and cells grow and repair. These properties are very helpful in bringing anti-aging & anti-wrinkle effects to our skin.
Useful for Acne Prone and Sensitive Skin
Lemon balm contains powerful natural astringents and antiviral properties which known as tannins. Besides, lemon balm also possesses important antibacterial properties call eugenol. These make Lemon balm highly recommended by herbalists for those who have acne prone, oily and sensitive skin. Both commercial and homemade natural herbal cosmetics also like to include lemon balm as one of their products key ingredients.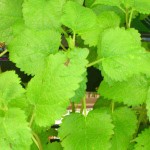 Lemon balm can cleanse our skin; this particularly useful for oily and acne prone skins. Lemon balm prevents pores on our skin clogged with oil and dirt. When skin pores clogged, bacteria will settle in and will leads to the formation of pimples, whiteheads, blackheads and acne.
Lemon balm possesses anti-inflammatory and anti-bacterial properties. Lemon balm natural herbal cosmetics are able to alleviate redness, itching, swelling, irritation, burning, rashes and lumpiness of sensitive skins. It also prevents skin infections and acne outbreaks.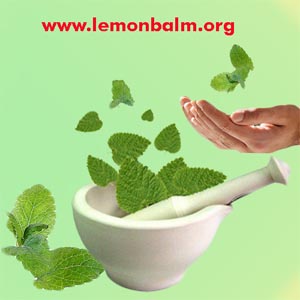 Most of us assume that making natural herbal cosmetics is rather difficult and need a lot sophisticated equipment. But surprisingly, some of the lemon balm cosmetics can easily make at home. For some simple recipes, you only need a handful of lemon balm leaves and distilled water. You do not need to spend high prices and they produce equal results. Homemade lemon balm herbal cosmetics are 100% natural but they have shorter shelf life due to absent of preservatives and chemicals.
Below are few lemon balm natural skin care and cosmetics recipes:-
I) Lemon Balm Bath Infusions
Ingredients:
10 ounces of dried or fresh lemon balm
5 ounces of Chamomile, spearmint or blackberry leaves (optional)
3 cups of distilled water
Instructions:
Add in the herbs to boiling water and let the infusion steeps for around 30 minutes.
Strain out the liquid and add a cup of lemon balm infusion to your bath water.
Useful tip:
Lemon Balm Bath Infusions can benefit the skin complexion and relaxing muscles.
II) Lemon Balm Astringent
Ingredients:
1-2 ounces of dried lemon balm (finely minced)
8 ounces of distilled water
4 ounces of vodka
2 ounces of witch hazel
1 ounce of vegetable glycerin
Instructions: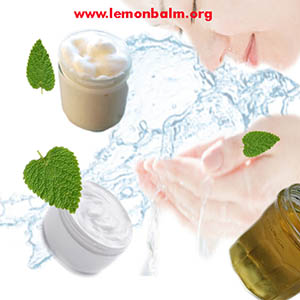 Fill the lemon balm into glass jar.
Mix the distilled water, vodka, witch hazel extract and vegetable glycerine together and stir it well.
Pour the mixture into the glass jar until all the lemon balm herbs have fully submerged.
Close the cap tightly and store the glass jar in a cool and dark location for 2 weeks.
Shake the glass jar gently two times per day to assist the steeping process.
After 2 weeks, strain out the liquid and transfer it to clean bottle. You may add 1/4 teaspoon of potassium sorbate to your astringent to extend it shelf life longer than 3 days.
Useful tips:
Lemon balm astringent is suitable as a cleanser for oily and acne prone skins.
It is not suitable for dry skins because it will make your skin dryer.
Apply on problem areas of skin with cotton wool. Use it together with moisturizer to compensate for dryness.
III) Lemon Balm Vinegar Face Toner
Ingredients:
1 part vinegar (diluted with water)
6 parts lemon balm infusion
Instructions:
To prepare the lemon balm infusion, add in lemon balm leaves to boiling water and let it steeps for around 30 minutes.
Strain out the infusion when cooled and then combine with vinegar.
Useful tip:
After cleaning your face, apply lemon balm vinegar face toner using cotton ball or pad to clean off makeup or traces of a face mask.
Use water to dilute vinegar to avoid skin irritation and burning. As a start-up, you might want to use the ratio of 1 part of vinegar to 4 parts of water. Make your own adjustment by adding more water (if too strong for your skin) or adding more vinegar (if it is not strong enough to bring any noticeable benefits) until you reach the ratio that most suitable for your skin.
Lemon balm vinegar face toner can restore your skin pH to its normal level. It also helps to dissolve dead skin cells and prevent acne outbreaks.
Cautions
If you have special skin conditions, seek for dermatologist advices before using any herbal cosmetics.
All of us may react differently to herbs cosmetics. If you find any allergic reactions such as swelling on face, hand or feet, headache, rash, breathing difficulty, stomach ache and etc. immediately seek for medical help.
For a start-up, use mild or more diluted herbal cosmetics.
Posted by